Best Tinkering Course for ATL Students!
This is an online learning program for the students of Atal Tinkering Labs who want to learn tinkering and practice innovation.
Mission: To support the students of Atal Tinkering Labs across the country and to accelerate Tinkering & Innovation.
Atal Tinkering Lab is one of the best educational initiatives taken by Atal Innovation Mission, NITI Aayog. It is a unique way to encourage students and engage them to learn new skills to enhance their career in the schooling day.
Tinkering Course! Why?
As a mentor of change for Atal Tinkering Labs, I have conducted mentoring session and interacted with thousands of students in different schools and realized that the students want to actively take part in the tinkering process and practice innovation. But there are many issues needed to be sorted out.
Problems they Face !
As there are different technical issues that arise when the students work on Arduino Projects. It may be while
Drawing the circuit diagram,

Connecting different electronic components,

Writing the code or running the program,

Calibrating the sensor's value,

Collecting data from sensor or manipulating data to perform a particular tasks.
Student's Demand!
They Need Guided Sessions: Most of the ATL students do not have any knowledge about how to use basic electronics components and they need guided sessions to become confident about using those components.
They Feel Coding is Difficult: They do not know about Arduino & coding, and how to make basic electronic gadgets using Arduino.
They Say YouTube is Not Enough: Most of the students watch video tutorials on YouTube to learn Arduino programming but they find it difficult to apply what they see in the video and when they practically try to experiment. There is no such scope to ask any question about their doubts to the person who has created the video.
Most of the time "Tinkering & Innovation" doesn't happen without a Mentor.
What is the Solution?
This course has been created with the main objectives:
Learning Environment: To provide a comprehensive learning environment where students can learn easily and without compromising their studies.
To Listen: to the problems student come across while making an electronic gadget and to provide necessary supports and help them solve the issues.
Cashback: To incentivize and motivate students to learn problem-solving skills through cashback and rewards.
As we know that problem-solving skills are the most demanding and high-paying skills in the 21st century but it's very difficult to learn.
Only a motivated guy can do a tuff job.
Course Work Snapshot in a Nutshell
Join India's Best Tinkering Course for the Students of Atal Tinkering Labs.
This special course is prepared for ATL students which covers the complete ATL curriculum; Electronics, Computational Thinking & Coding Module, Physical Computing & IoT Module, Space Module, Artificial Intelligence Module, Python Learning Module, Gaming Module, App Development Module, and  3D Design & Printing Module. 
Here are the top features that you will get on this training program.
Engaging Learning Community
We make learning hands-on and enjoyable for you. You will get opportunity to engage with the community and interact with your mentor and peers.
Feedback and Review on Assignment
Your mentor will check and review the assignments you submit and provide feedbacks on every assignements.
Weekly Live Q&A Webinar
This course is very interactive and engaging with live Q&A with the mentor. You can ask questions to your mentor directly to clear all your doubts.
Supports for ATL Marathon
We will help you prepare for ATL Marathon, Model making, and other Coding Competitions.
Complete Assignemnts & Earn Rewards
We encourage our students with incentives and motivate them to learn through cash backs and rewards. We also reward the best performers in every batch.
Access to Innovation & Tinkering Club
Innovation & Tinkering club is where experts meets and help each other out in prototyping your and testing different working models.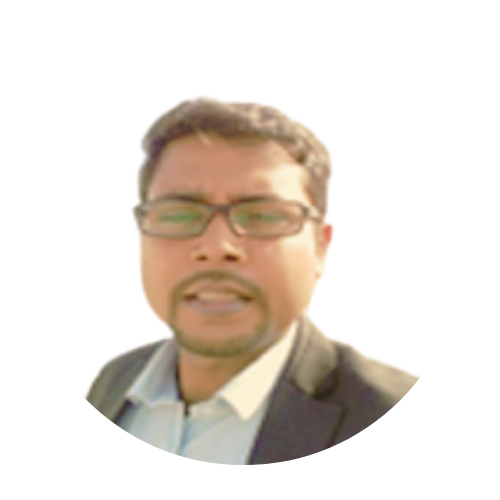 M F Haque
Founder & Master Trainer STEM-GUIDE.COM
Mentor of Change for Atal Tinkering Labs, AIM
A student-centric educator with 15 years of experience in classroom teaching and integrated lesson plan creation. He creates lesson plans in such a way where students learn science and math in a hands-on way.
He is the first person to introduce integrated courses on Aeromodeling, Robotics, and Model Rocketry for the students of the Northeast. He has interacted with more than 50000 students through hands-on learning workshops on robotics, coding, quadcopter making, model rocketry in different schools, polytechnic, and engineering colleges in the region.
His students successfully took part in various state level, national level, and international level competitions like World Robot Olympiad.
The endeavor of Mr. M.F. Haque for teaching Robotics, Aeromodeling, and Automation skills and technologies to a wide variety of learners ranging from kids to graduate students is really appreciable.
He has devised interesting techniques, curriculum, and contents to make the hands-on practices on system building, science basics, and robotic principles. And these are suitable for learners of different stages.
I have personally witnessed his demonstrations and sessions, and visualize that his skills, efforts, and resources will be beneficial to our students for creating scientific & technological temperament towards furthering future education and career.
Dear Mr. M F Haque, I am writing this letter to extend my heartiest appreciation towards you for delivering such a wonderful workshop on Aeromodelling at Bharthi Vidyapeeth University College of Engineering from 3rd March 2017 to  7th March 2017.
You have immense knowledge on the subject and technical expertise. The practical approach of you has altogether changed students' perspectives towards the subject.
I am sure that the knowledge given by you will definitely be helpful to these aspirant candidates.
I once again would like to express my gratitude towards you and wish to arrange more such sessions conducted by you.
This is to certify that Mr. M F Haque was the key and only resources person in the workshop on "Robotic Activity" conducted at Regional Science Center, Guwahati held from 28th to 30th March 2017.
Technical Persons from each Science Centers situated in all seven states of northeastern states- Assam, Arunachal Pradesh, Manipur, Meghalaya, Mizoram, Nagaland, and Tripura took part in the workshop.
Mr. Haque interacted with the participants with hands-on activities and trained them to understand how to make robots with programming LEGO® MINDSTORM EV3®  kits.
He has been associated with conducting such types of workshops at this center for the last 4 years.
Get In Touch With Us
Email: haque@stem-guide.com
Phone +91 9365524510 (WhatsApp)
Cancellation & Refund Policy